Đà Lạt được mệnh danh là thành phố ngàn hoa. Nơi đây thu hút sự chú ý không chỉ của khách du lịch Việt Nam, mà còn có cả khách du lịch nước ngoài. Vì vậy, để có thể giới thiệu và kể cho mọi người nghe về thành phố thú vị này, bạn có thể tham khảo bài viết chủ đề talk about dalat city dưới đây nhé!
Từ vựng chủ đề talk about dalat city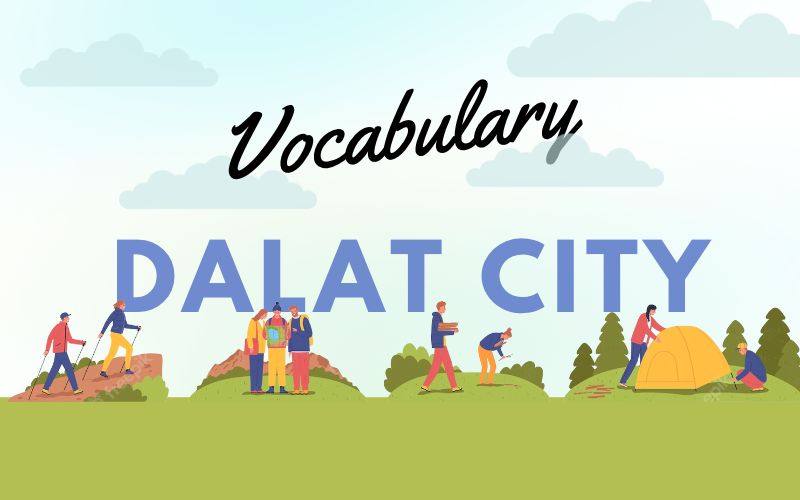 Province: tỉnh
City: thành phố
Village: làng
Town: thị trấn
Homestay: nhà ở với cư dân
Hotel: khách sạn
Tourist: khách du lịch
Tourist attraction: điểm thu hút khách du lịch
Destination: điểm đến
Architecture: kiến trúc
Visitors: du khách
Getaway holiday: du lịch xả hơi
Retreat: kì nghỉ
Lake: hồ
Waterfall: thác nước
Honeymoon: người đi tuần trăng mật
Specialties: các món đặc sản
Discovery: khám phá ra
Wander around: đi dạo xung quanh
Contemplate: chiêm ngưỡng
Impress: gây ấn tượng
Fresh: trong lành
Poetic: nên thơ
Magnificent: tuyệt diệu
Popular: phổ biến
Peaceful: yên bình
Bố cục bài viết chủ đề talk about dalat city
Để có một bài biết về thành phố Đà Lạt bằng tiếng Anh hoàn chỉnh, bạn có thể tham khảo bố cục sau: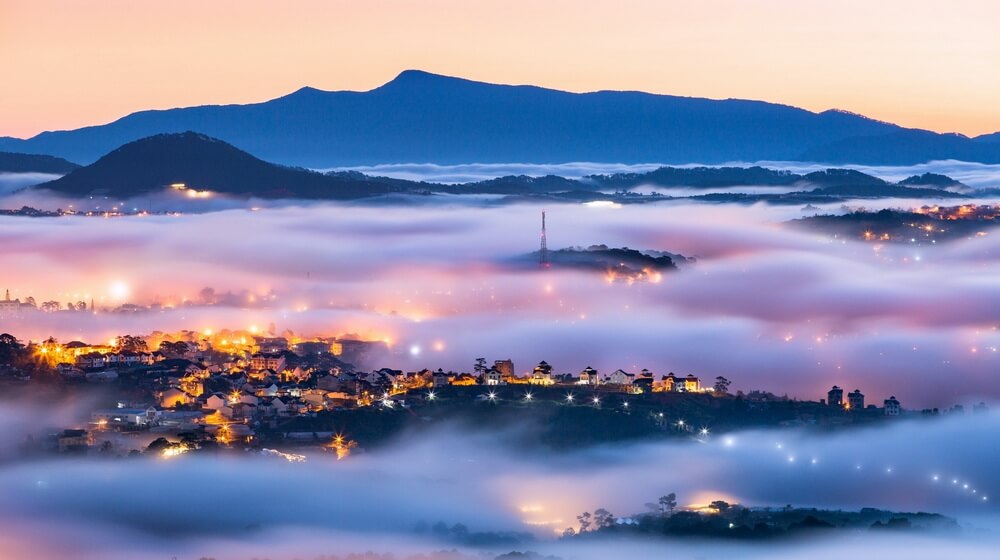 Giới thiệu tổng quan về Đà Lạt
Đà Lạt, known as the "City of Eternal Spring," is a charming and romantic destination located in the Central Highlands of Vietnam.
Nestled in the midst of lush pine forests and rolling hills, Da Lat is a picturesque city famous for its temperate climate, stunning waterfalls, colorful flower gardens, and unique architectural style.
Dubbed as the "Le Petit Paris" of Vietnam, Da Lat offers visitors a unique experience with its French colonial buildings, cozy cafes, and a wide variety of adventure activities such as trekking, mountain biking, and canyoning.
Giới thiệu chi tiết về Đà Lạt
Giới thiệu chi tiết về các nội dung sau:
Vị trí địa lý
Đặc trưng/đặc sản của Đà lạt
Các tên gọi khác của Đà Lạt
Vì sao bạn thích Đà Lạt
Thời tiết, cảnh vật của Đà Lạt
Cảnh vật tại Đà Lạt
Các hoạt động của người dân Đà Lạt
Các điểm đến nổi tiếng của Đà Lạt
Kỉ niệm của bạn với Đà Lạt
Kết luận về Đà Lạt
In conclusion, Dalat is truly a gem of Vietnam with its stunning natural landscapes, unique cultural heritage, and delicious cuisine. It is a must-visit destination for anyone looking to explore the beauty and diversity of Vietnam.
To sum up, a trip to Dalat offers a perfect combination of adventure, relaxation, and cultural immersion. Visitors will be amazed by its natural beauty, friendly locals, and delicious food.
In summary, Dalat is a city that captures the hearts of travelers with its charming atmosphere and diverse offerings. It is a destination that truly has something for everyone, from stunning waterfalls and mountains to rich history and culture.
Xem thêm:
Một số ý tưởng cho chủ đề talk about Dalat City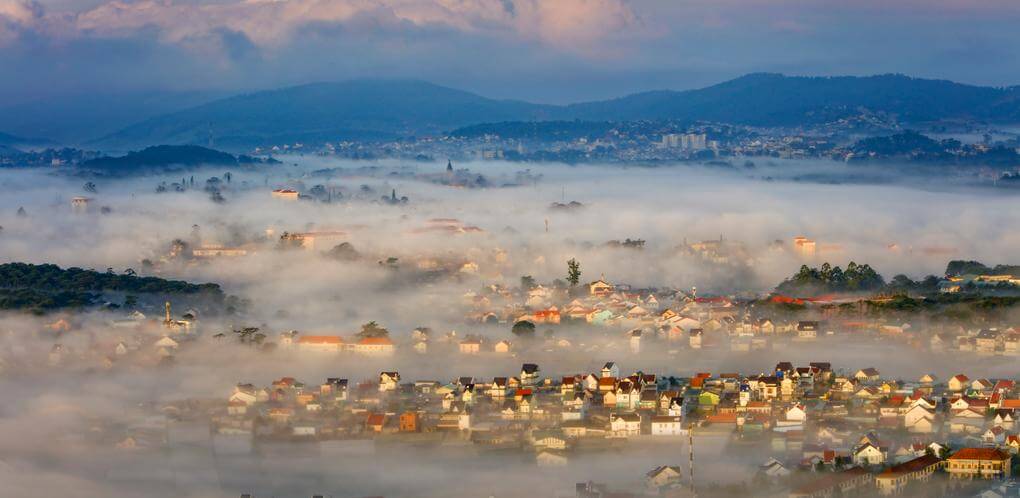 Những lý do bạn nên đến Đà Lạt
The Fog City: Thành phố sương mù

Southern Vietnam has two main seasons: wet and dry, with temperatures ranging from 25-37 degrees Celsius, but occasionally dropping to 11 degrees. The cool weather in the city creates a happy, comfortable and peaceful atmosphere for its visitors.

Flower City: Thành phố hoa

You can spot flowers all over the place in every nook and cranny, even in the tiniest crevices.

French villa architecture: Các căn biệt thự với kiến trúc Pháp

There are over 2000 villas in Dalat, each with its own unique charm and beauty. Most of these villas come with gardens and offer breathtaking views of pine forests, valleys, and the Langbian mountains. It is worth noting that the villas in Dalat are generally no higher than three stories.

Local People: Người dân bản địa

The locals in Dalat are known for their kind, amiable and hospitable nature, always willing to lend a hand when someone needs directions or assistance.
Beautiful Nature and Landscapes: Cảnh đẹp

The scenery of this misty city, including Gold Stream Lake, Langbian Lake, and Tuyen Lam Lake, is not only majestic but also poetic and romantic. Every corner and destination in Da Lat makes visitors want to capture the moment, the space, or simply leave their mark there.

Fresh air: Không khí trong lành

Dalat offers a refreshing experience with its pine forests, lakes, rivers, streams, and cool climate, setting it apart from other crowded cities.
Những điều độc nhất ở Đà Lạt
No traffic light
No cyclo
No air conditioning
Những địa điểm nổi tiếng ở Đà Lạt
Crazy House
Pongour Waterfall
Tuyen Lam lake
Truc Lam monastery
Langbiang mountain
Datanla waterfall
Elephant waterfall
Linh Phuoc pagoda
Dalat Railway Station
Mẫu bài viết chủ đề talk about dalat city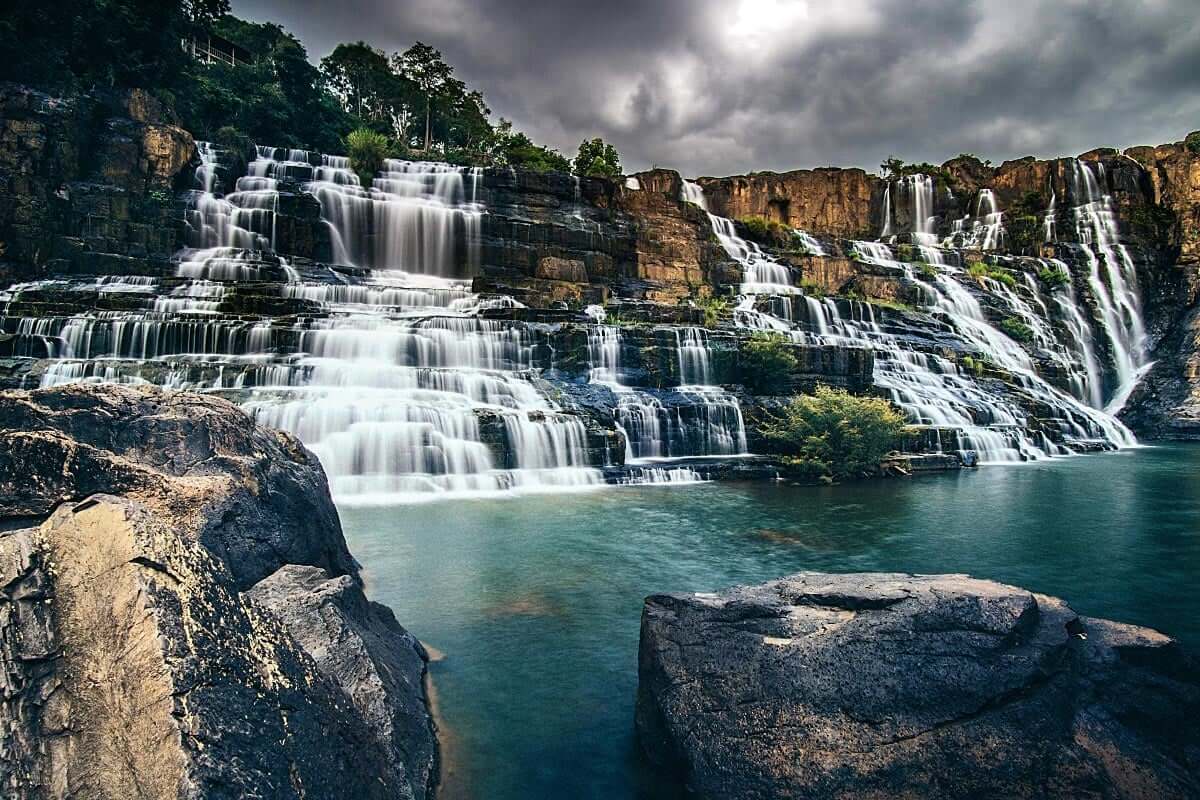 Bài mẫu 1
Not only are the people of Da Lat in love with nature, but also every visitor who sets foot in this charming city. It offers a wonderful opportunity for happiness, health, and love of life. Located at an altitude of 1,500 meters above sea level, this city boasts a cool climate all year round, which is unusual for a tropical region in Southeast Asia.
Da Lat's topography is diverse with hills, springs, and waterfalls that blend together to create a stunning natural landscape. The color green dominates the city in all seasons, with pine trees and various colorful flowers creating a captivating and serene atmosphere.
Each landscape in Da Lat has its own unique charm that attracts visitors. For instance, the Prenn waterfall provides a soothing and exhilarating experience, while the Dantala waterfall is a long stream that cascades down from a high point, creating a white suds and flowing into the stones. The Cam Ly waterfall flows around marble stones like a dragon and is smoother than Dantala. "Tiger Cave" waterfall (Hang Cop waterfall) is located inside a large pine forest and provides a sense of wild ecological regions with its cold water stream.
The city is also home to several beautiful lakes, including the pure Tuyen Lam lake on the hills, Xuan Huong lake in the city center, and Than Tho lake in the east of the city. Da Thien lake, located in the northwest of the city, is large, pure, and peaceful, with the shadows of thousands of pine trees.
Da Lat's hills and valleys are in perfect harmony, and the Love Valley in Da Thien is a sight to behold. The city's natural beauty changes with each season. In the rainy season, flowers and trees bloom in various colors, while the dry season brings a bright blue sky. On Christmas morning, dew covers the hills and villas, creating a magical atmosphere. Moreover, Da Lat city is a beautiful sight with many colors during sunrise.
Da Lat's natural beauty is abundant with potential, offering visitors a pleasant and peaceful experience as they explore its impressive landscapes and quiet spaces.
Xem thêm:
Bài mẫu 2
Dalat, also known as Da Lat, is a city located in Lam Dong province of Vietnam. The city is often referred to as the "City of Flowers" and is a popular honeymoon destination due to its charming French villas, fresh air, waterfalls and lakes. Situated at an altitude of 1500 meters above sea level on the Lang Biang Plateau, Dalat boasts stunning mountain views. Discovered by Alexandre Yersin, a Swiss man with French nationality, in 1893, the city now showcases magnificent French architecture.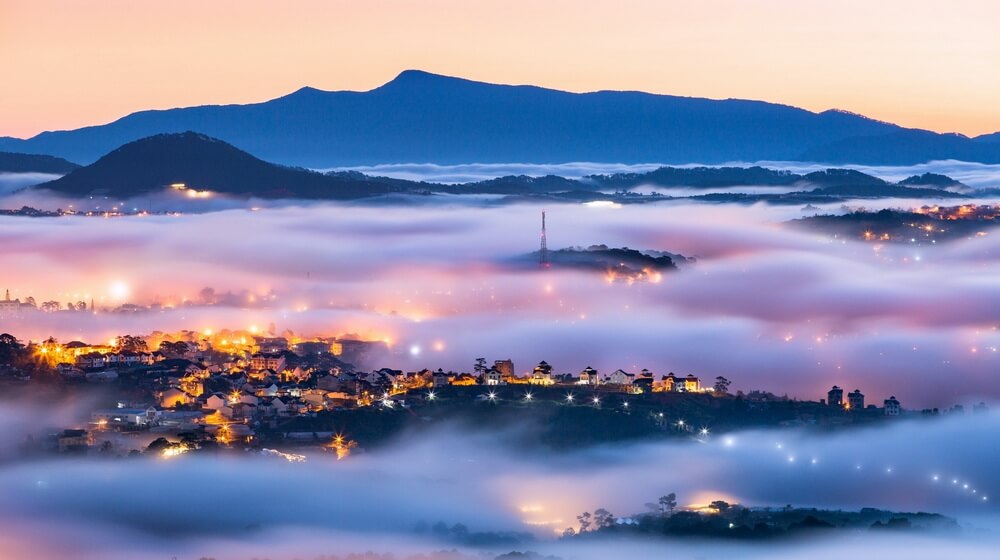 With its year-round cool climate, visitors to Dalat can enjoy a range of activities and local specialties including a variety of fruits. The city is also famous for its unique flowers and orchids, attracting hundreds and thousands of visitors. Every two years, the National Flower Festival is held in Dalat with participants from all around the world. In addition to this, visitors can also explore other tourist attractions in Dalat such as Love Valley and Pongour Waterfall. Come and discover the beauty of Dalat on your next holiday!
Xem thêm:
Bài mẫu 3
My family and I had the pleasure of spending a week in Dalat last summer, which turned out to be the best week of my summer. Known as the hill town of Da Lat, this destination has been a popular choice for getaways since French colonial times. Despite undergoing development and changes, Dalat still offers a serene and refreshing atmosphere.
Our arrival in Dalat was in the late afternoon, and I was immediately awestruck by the sunset over Ho Xuan Huong lake. As the sun gradually descended, the view was simply breathtaking. Later that evening, we indulged in the local specialty, beef hotpot, which was not only delicious but also affordable compared to where we lived. We then headed to the Night Market to try out different foods and fruits, where I had the chance to taste the mouth-watering "Banh Trang Nuong," a perfect treat for a cool night.
Over the next few days, we visited numerous tourist attractions, including Love Valley and Pongour waterfall, where we encountered many other tourists. One of the most impressive things about Dalat is that we were able to experience all four seasons in a single day, which was truly remarkable. I am looking forward to revisiting Dalat this summer!
Bài mẫu 4
Dalat is an idyllic destination for those seeking a tranquil vacation. Known as 'Le Petit Paris', this hill town has been a popular getaway spot for a long time. The town even boasts a mini Eiffel Tower replica in its center!
The refreshing cool climate and stunning French architecture of its homestays and hotels provide a pleasant change of atmosphere. During my stay in Dalat, I spent my time strolling around and admiring the charming city. Famous for its vast array of flowers, vegetables, and fruits, as well as its beautiful landscape, evergreen forests, and minority villages, Dalat is a sight to behold. I even visited the Puppy Farm, where I was able to witness numerous adorable dogs living happily together.
If you ever find yourself in Vietnam, make sure to add Dalat to your list of destinations. This beautiful and romantic city is not to be missed!
Bài mẫu 5
Dalat city is a popular tourist destination located in the Lam Dong province of Vietnam. It is a highland city known for its scenic beauty, cool climate, and French colonial architecture.
The city is situated on the Lang Biang Plateau at an altitude of approximately 1500 meters above sea level, surrounded by beautiful mountains, forests, and lakes. It was discovered by a Swiss man with French nationality, Alexandre Yersin in 1983, and has since become a popular destination for both domestic and international tourists.
Dalat city is often referred to as the "City of Flowers" due to its abundance of colorful flowers, including various types of orchids. Every two years, the National Flower Festival is held in Dalat, attracting visitors from all over the world.
Apart from the natural beauty, Dalat also offers a variety of attractions, such as the Love Valley, the Pongour waterfall, the Dalat Cathedral, the Crazy House, and the Xuan Huong Lake. Additionally, the city is home to many coffee shops, restaurants, and markets where visitors can enjoy the local cuisine and shop for souvenirs.
Overall, Dalat city is a perfect destination for those seeking a peaceful vacation in a beautiful and romantic setting. It is a unique blend of French colonial architecture, natural beauty, and Vietnamese culture that offers visitors a one-of-a-kind experience.
Qua bài viết này, UNI Academy bạn đã biết được các từ vựng, cấu trúc câu, ý tưởng viết bài, dàn ý và các bài văn mẫu chủ đề talk about dalat city để giúp bạn có thể tự tin kể về Đà Lạt. Nếu bạn gặp khó khăn về giao tiếp tiếng Anh, hãy ghé xem thêm các blog chi tiết tại Unia.vn nhé!
Chúc bạn thành công nhé!